Friday, January 25, 2019
7:00 - 8:00 pm
Youth Room
This event has already occurred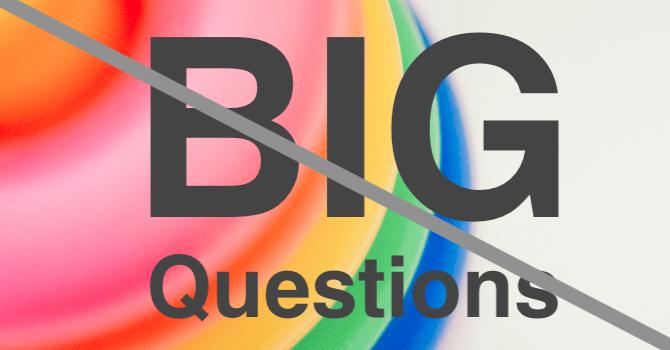 Due to lack of registrations, Big Questions Night has been cancelled for this month. Apologies for any inconvenience!
Stay tuned to this site for future events geared for post-confirmation youth!
BIG QUESTIONS Night

for Post-Confirmation Youth
Come by and hang out with friends from Hope. We'll have a brief time of fun activities and then get down to the main business: figuring out the Big Questions of life together. Our format is simple: take a moment to write down on a slip of paper your Big Question, then put it into a hat. Discussion flows from the questions we draw from the hat.
The field is wide open for discussion about questions of God, faith, church, and life. Sometimes there are simple answers but more often the answers are complex and only raise more questions.
Here are some things we've talked about in the past:
Why are the benches called pews?
To what extent should we take all of the lessons in the Bible? The Bible was written a long time ago and a lot has changed in terms of values and society?
Does heaven get boring if the afterlife is eternal?
Why is there suffering in the world?
Why is it important to go to church?
Why does the pastor wear that funny dress?
Don't miss the chance to come discuss your Big Question!
January 25 - Bring a snack to share!
Please let us know if you're coming!
---
RSVP by January 21 because we need at least 6 youth in order to run the event. We'll post updates here in case of postponement or cancellation.